2019年7月号にて掲載いただいたオランダ取材記事を従姉妹が英訳してくれました。
インタビューをお受けいただいた遠藤悦子さんの海外のご友人のために
こちらに英訳記事として掲載させていただきます。
本誌の掲載内容はコチラ
Caring aged dogs In the Ntherlands (Ms.Etsuko)/ Japanese
https://grandwan.com/dog/article01/
<English>
Caring aged dogs In the Netherlands
by Yuko Kushibe Translator:H.N
I have visited the Netherlands and met a dog owner, Etsuko in Den Haag in April, 2019. She has a black Labrador, Max, and a Terrier, Lucie. I interviewed her about the life with senior dogs.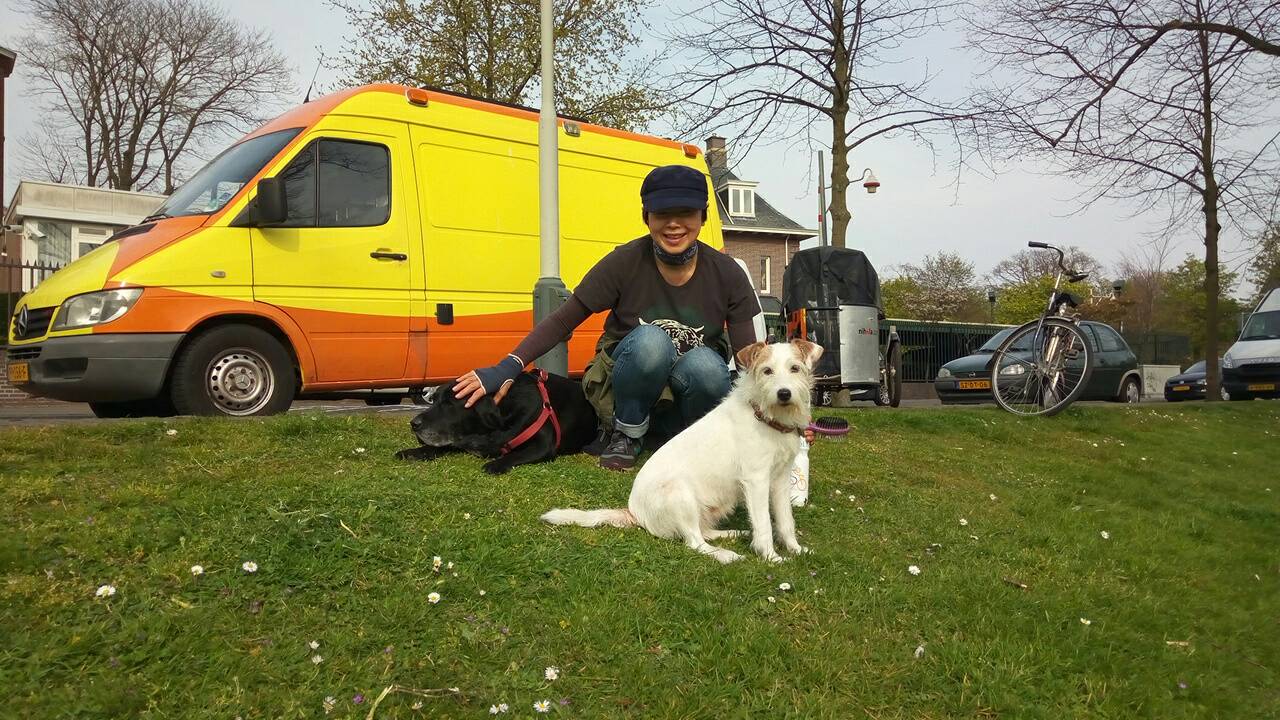 ///Max and Lucie ///
The black Labrador, Max, who is a boy, 12 years old and Lucie is a girl, 10 years old. The couple met Max when they lived in UK, from a dog breeder, then later they met Lucie at an animal shelter. Etsuko tells me that their life became more fun and cheerful by having them as their family. The family had been transferred from UK to Singapore, then to the Netherlands. They are together to move any countries in the world. I asked a question to Etsuko "Which country is the most friendly for dogs?" and got an answer "I like any of the countries and it is easy to live with dogs where we moved in." She didn't feel so much difficulties while the family lived in culturally and weatherly different countries because she has more fun with dogs, who also tells me from their face that they enjoy their life with the couple anywhere in the world.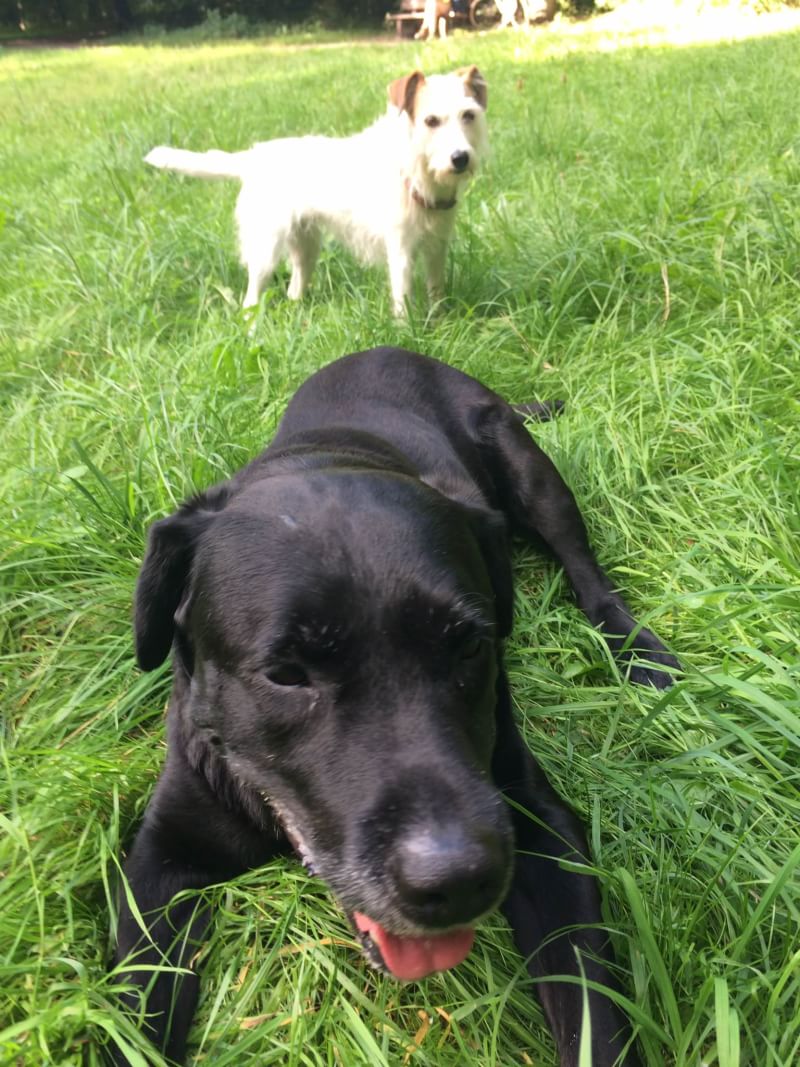 ///Medical care for dogs in the Netherlands///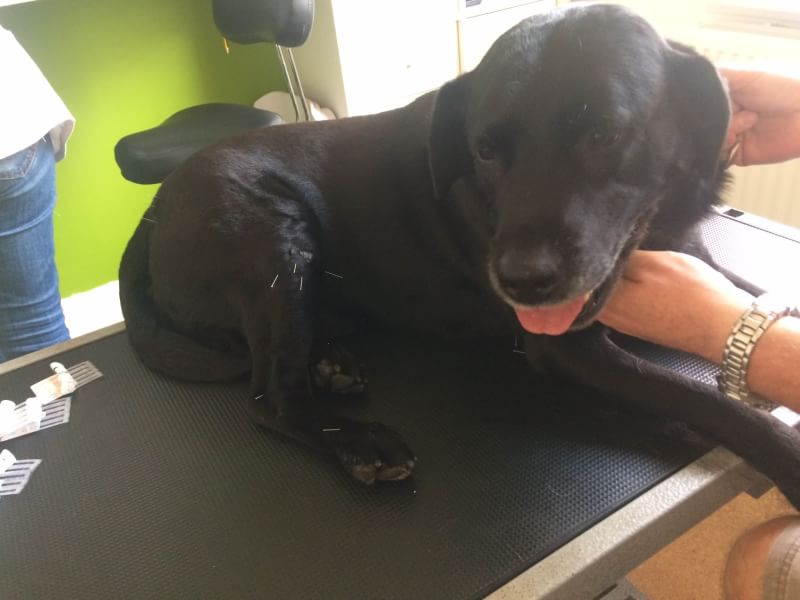 In recent years, Max get hernia then it is difficult for him to walk by himself because of handicaps with his real paws. The family had started to experiences of caring an aged dog since then. The family uses a bicycle for walk with dogs so Max's daily life doesn't have a big changes. They enjoy time together at their favorite places.
There is an advanced medical care center for animals in Amsterdam and the family brings Max to there and they sometimes bring Max to Animal acupuncture and to a rehabilitation station with hydro care. Those facilities are not so many but there are choices for dog owners to care their dogs in the Netherlands. The choices of caring aged dogs look similar to what we have in Japan.
///Bicycles in the Netherlands – Useful for life with dogs///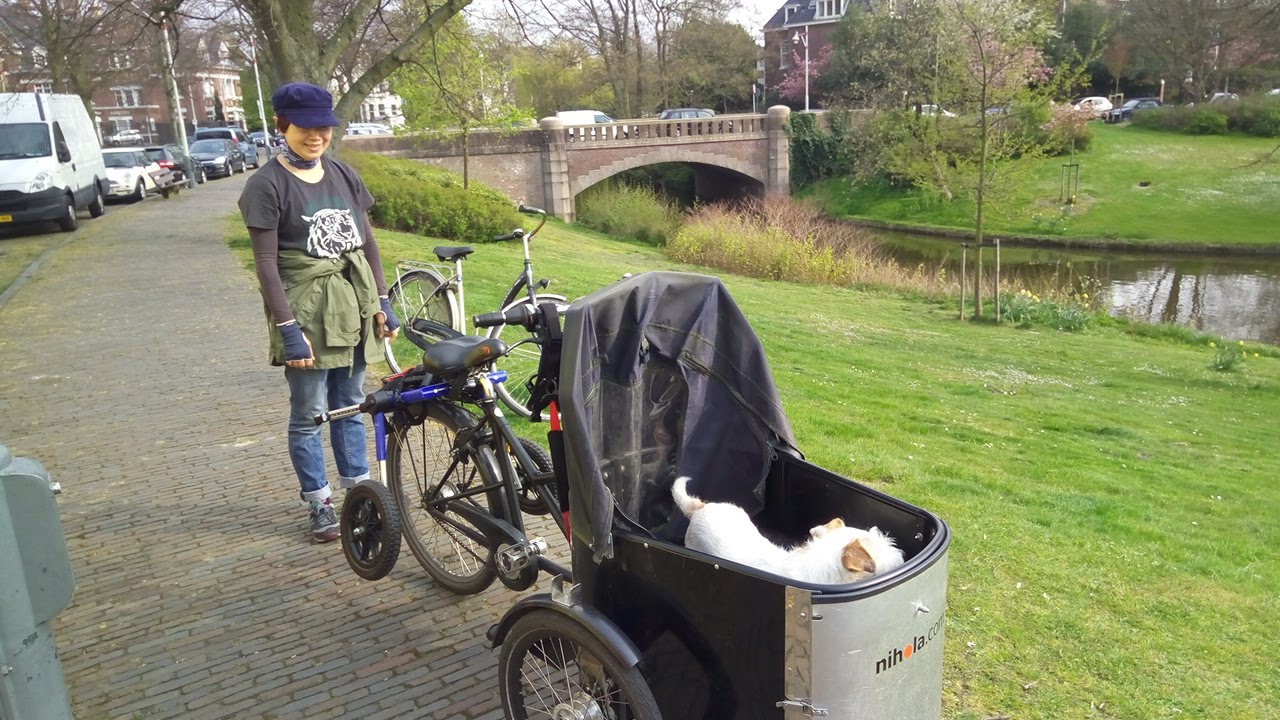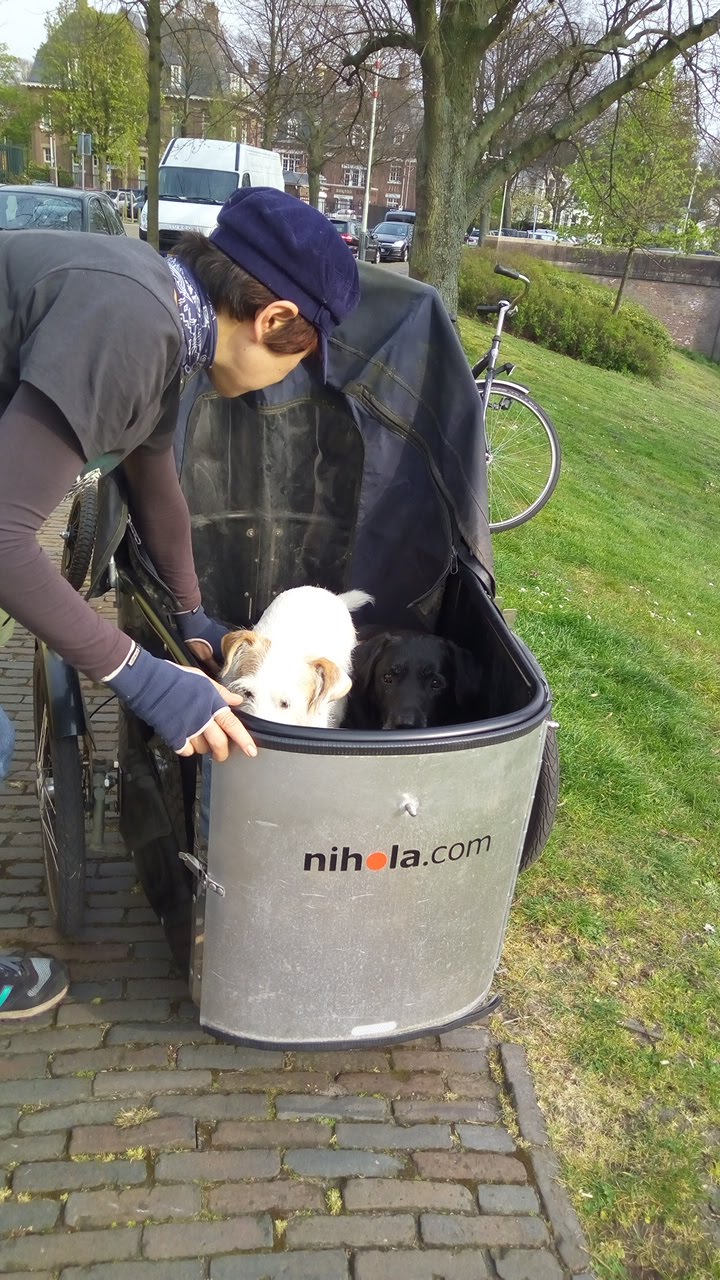 In the Netherlands, there is a type of bicycle which has a huge cargo in front of a bicycle, called "Bakfiet", literally meaning basket bike. They are often seen in the Netherlands. Many dog owners also use those bicycles to bring their dogs to park or beachside. People have more than a bicycle and they use it depending on a situation – for commuting, sport and etc. Etsuko shows me her bakfiet which was renovated for Max to ride on easily. The front basket has a door at its front so that dogs can ride on it easily because of a small step from ground.
///Their favorite place///
Etsuko takes me to one of their favorite places by bicycle. An open space with a pond surrounded by beautiful lawn has nice view and sunshine. Etsuko, Max and Lucie often sunbathe together there. When I visited this area in April, cherry blossoms were also beautiful and I enjoyed Dutch Spring with them. After having relaxed time with dogs, Etsuko tells them "we should go home" and she opens the door of the bakfiet. Max and Lucie show their face expressing as if they would like to stay longer. Well in the end, they listen to Etsuko and go into the basket in the bicycle. If they can speak, they would say "We enjoy so much here! Well Mon, let's go home."
///Care of Max after walking///
Etsuko provides a massage for Max after walking. She prepares a warm towel to clean his body. When it is cold, she provides a hot warmer for Max and he can keep warm by putting his paw next to it. She checks Max's condition through those cares and could notices any small changes on Max. She thinks Lucie might get jealous. She mentions "When I care Max, Lucie doesn't come to us…" I see her love to both Max and Lucie.
Max at 12 years old and Lucie at 10 years old, both dogs are at the age as senior. Etsuko told me "There are many choices and I have to figure them out which would be better ones for my dogs. I try to do what I can do for them."