i just had an
L'Amazing Night
with the
4 fabulous guys in my live
:
hyde the pretty braids hime
,
the banana prince tetsuya
,
Ken_chan the lion
and
my one and only android yukihiro
. Since the first time i hear L'arc song, I know that i am gonna be a cielers, until now. And i am proud to be a cielers ...
I am gonna write my first live report for
L'20 Anniversary : L'Arc_en_Ciel Live Jakarta May 02nd 2012
. after my last fail to make a report about my trip chasing
L'arc_en_Ciel to Bangkok
, but before that, i am gonna start my report with all things in my mind that i have to write here in order to get all of it from my brain, My brain gets overload with lots of things because i didn't write much recently, and this is not right ne, i need to write something, at least writing makes me me better, lighter and happy ....
so i have to write more, and as always, my post including this,
is gonna be a very long and boring post
....
NHK World
gave an awesome closing for my
April
with
「J-MELO Rock Special
」
and the guest :
Acid Black Cherry、DEAD END
plus there's a video comment from
L'arc_en _Ciel
about their live on
The Big Apple, New York
. see
Acid Black Cherry and L'arc_en Ciel on one package
, the same show and they repeated this show many times in one day
April.30 (Mon)
06:30/
12:30/16:30/20:30
and
May.1 (Tue) 00:30/04:30
I missed the first round in the morning because my boss said if he is gonna come to office that day, on
Monday
so at 06:30 i am already at office, waiting for him. But he didn't come that day, he cancel it,
Bloody hell
i mean i missed a chance to see
yasu
on my telly at the first time because i don't wanna be late for him, but he didn't come? ...
Hello bos, i spent my whole fangirl time to wait for this man
(
read : yasu
)
, and now when he (
read : yasu, again
) is gonna be on my telly you want me to wait for you and in the end you didn't come? ....please just let me jump off that bridge ....
yes, i knew
NHK World
is gonna repeat that show again and again but still didn't able to watch it from the first round is just pissed me off. I think there will be no connection between
my job real job
and
this Fulltime Fangirl job
. Both of it are
100% disconnected.
finally after all this time, i can see yasu on my telly i watched that show
more than 4 times, so spent that day in front of my PC at office and my mom's big telly at home because there's only the regular
NHK
, not
NHK World
on my own telly. What i am gonna say about
My first time watching yasu on my telly
(
read : not DVD, streaming or youtube on internet
) is sooo ...
Hawaii ...

Waikiki ....

Kawaii .....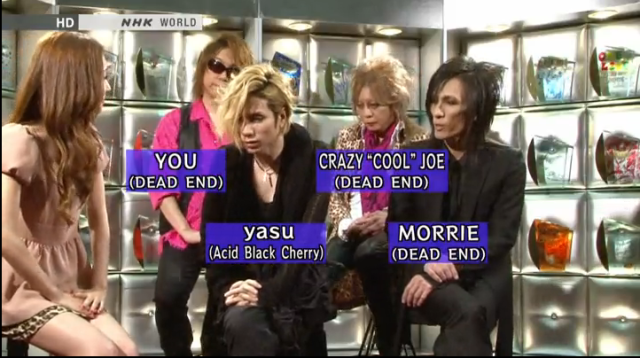 yashhoooiii ......
my fave part is when MORRIE said how yasu was not talk much at the first time they meet, and then yasu replied him by sayin how big is MORRIE's influence to him, how he wrote his songs, .. etc etc.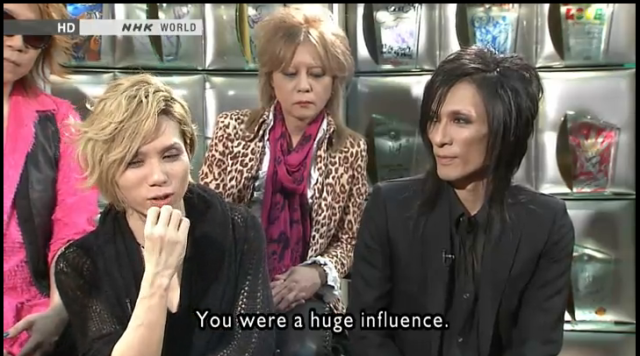 and then i think
hey God bless this man (read : yasu)
... i mean he meet his idol since junior high, did live together (
sixth sense
), magazine interview (
Fool's Mate
) together, and now TV interview together ....
OMG

OMG

OMG
and then i ask to my self :
what would you say or do if one day you have a chance to meet hyde or yasu in person?
... i am sure i am gonna be speechless, what can i say but
a lot of OMG OMG and then run away like an idiot?
... i am sure i am not gonna able to force myself to talk with them. I mean taking to one man who was on your dreams? your silly dreams ... (
in this case is Hyde
)
hyde : just me ...?
noi : yup ..
hyde : what about yasu ....?
i dunno why but this is real until now i never have yasu on my dreams, even i did talk, spam about him everywhere at home, at office, esp here in my blogs but he never come to my dreams. This is weird ne, i should have at leat one dream with him even a fast dream on my nap time at office, but hey i don't have it at all, so the question is ...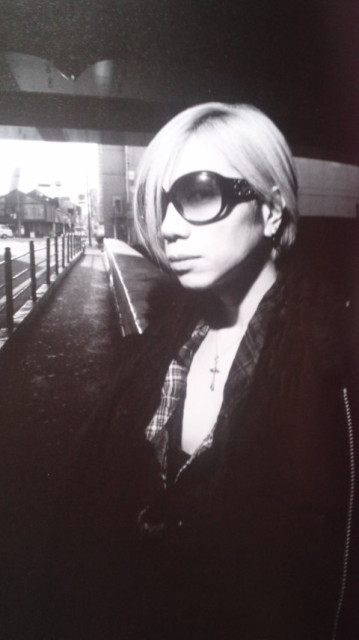 noi : why ya_san, why .....?
yasu : find it yourself and don't ask me ....
noi : i am still clueless about this ...
yasu : oke then, reason number one :
you don't love me
noi : oh no please don't say that again, you know how much i love you and i am sure you already see my love if you look at the moon ...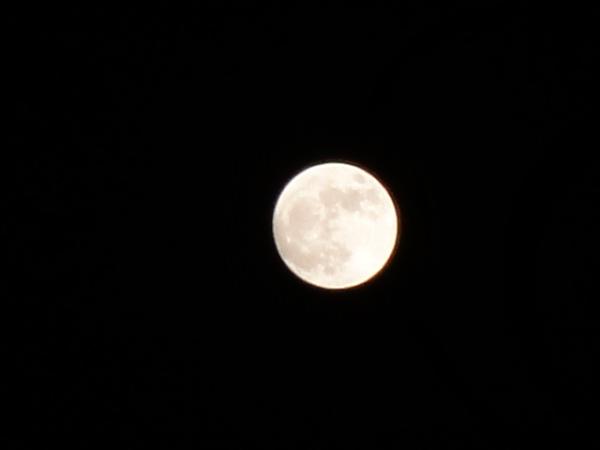 yasu : OMG that moon watching again ... then i only have one reason :
your lame Nihon Go
...
noi : you mean even in my dream i have to talk to you in Nihon Go ...?
yasu : sure, and you lazy fangirl you better learn again now ...
noi : @_@
oke, back to J-Melo and look who is the guitarist ...
at the first time i watch this show at office thanks to my office lame internet connection, i thought that can't be
Akihide
, maybe i am too much dreaming about to see
Akihide
with
yasu
on live stage so i saw Akihide, but then when i watch this show again after lunch, hey that day my blurry eyes was right
nah nah nah that's
Akihide
..... you can watch the video here :
http://www.facebook.com/video/video.php?v=3116925764378


this song

Acid Black Cherry - イエス

is my fave song recently, see i sing this song everyday and i spam about this song everyday to all my

muggle office mates

. Indeed i explain to them about what this song is talking about plus

all my fangirl analysis

about what is on yasu's mind when he wrote this song .. etc etc

yeah, it sounds like i did something stupid right, i mean explain something to somebody who is 100% blind and have no idea about what are you talking about, but that's fine i just love to do this gave all of them,

the muggles

a little bit about yasu and my fave song

イエス

.

and one day, one of them let's call her with

Mrs. S

(

not Mrs. Smith btw

) said to me :

hey, moi i dunno about this song, but i think i have the melody in my mind now, thanks to you who sing it everyday for me

.... see i made it, it worked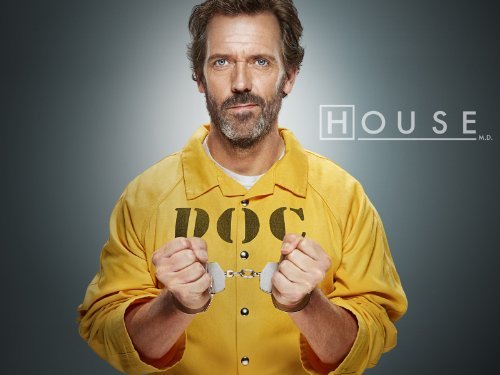 watched more than 4 times yasu on my telly just blown me away with all this joy. and i am sure Dr House gonna say this :
Congratulation Noi Himura you just got overdose with that Mr. Y
...
and then after my fool mistake that make me bought the May edition of Songs magazine instead of April edition that make me find a lot of KAT TUN instead of yasu, i am soo glad and got more overdose with yasu when someone scan that magazine and share it on JRock_scans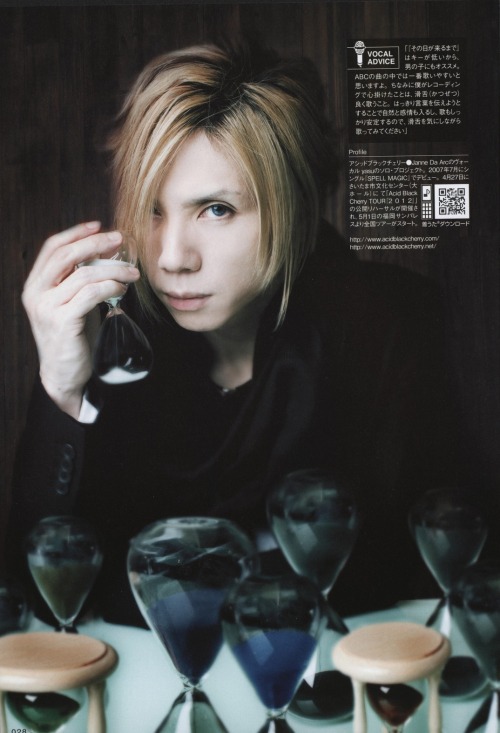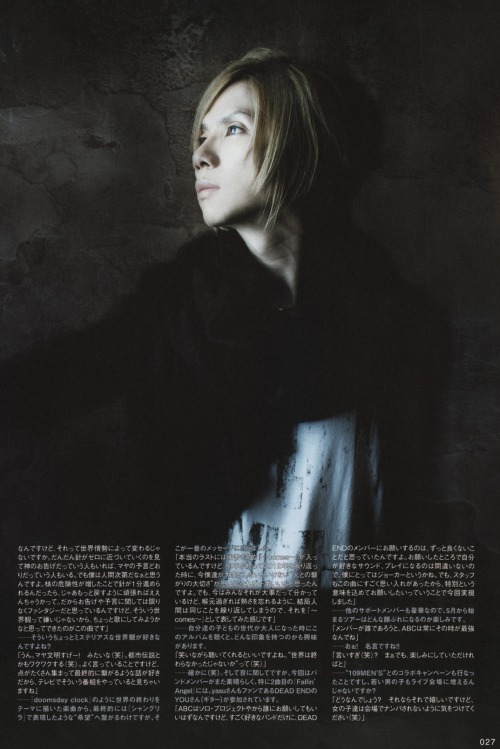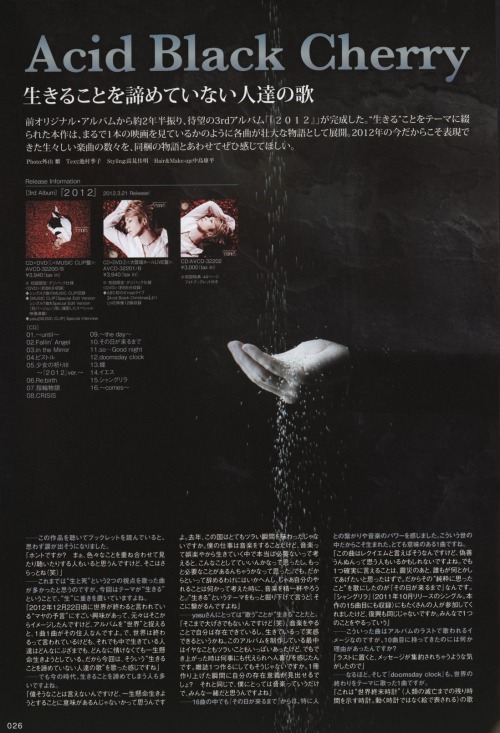 credit to :
ryuik
so here i am blown away so high and far far away, somewhere over the rainbow ....
and ah ya
ABC and L'arc as one package on J-Melo
, so next is L'arc_en_Ciel comment
a sandwich man ask to hyde :
is that you ,,,,?
about the very2 big billboard of L'arc in NY because hey they were in NY ne, the big apple and the center of everything, and the fact that L'arc was there is was amazing ne, on their 20th anniversary with a big
step like a performance on Madison Square Garden, that's very2 L'Awesome
...
and they are really chase me back to Indonesia, i mean Jakarta on May 2nd, one day before the D day (
the day when i finally watch L'arc in my country
) i was cryin like hell in front of my PC when i watch this video
and someone is so brilliant to make this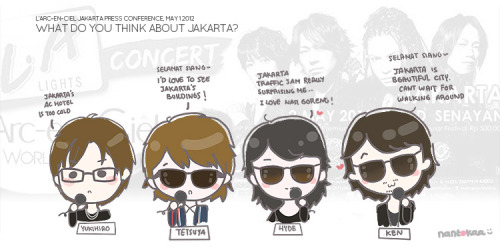 credit to :
nantooka @tumblr
sometimes be an fangirl the fulltime one in this fandom world is hard ne, there's a time when suddenly you just became a fool thanks to your devoted feeling to your idols and just like that, you acted like an idiot and nobody will understand why did that happen to you except another fangirl.
i was nervous, so excited and believe it or not maybe because how i was so excited about this moment i got my period 4 days earlier before i use to get it. OMG see only L'arc can do this, playin with the moon and ruin my period time schedule. and i think this is what my friend
adrio_nevralka
call with so
sexcited
yes, i was so sexcited to hyde ....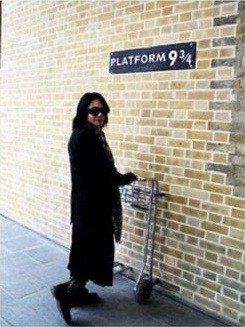 OMG is he going to Hogwarts? ....
xD
the night before i had a dream if i missed my flight to Jakarta next morning and maybe this is another conspiracy between
Master Yoda with all the bus drivers in my city
, yes, i missed my flight that day. why? ... thanks to all the bus drivers with their protes (
until today
) so there's no bus to take me to the airport.
i did my best to be at airport and don't ask me how did i manage to go to airport, because i am still 20 minutes late and hurt all over my body, i think i got a fever that day ... and then the officer said :
sorry you are 20 minutes late
, ....
Bloody hell, my dream just came true, and this is the first time, if the good
dream is the one come true i'd be grateful so much but this one is the bad one, missed my flight, the flight that gonna take me to see my larger than live band just leave me. that's disaster ...
so i have to buy another tickets for me and Tekki, because i don't want to missed the next flight and my dear imouto
mei_ru
with her sista Lala already waiting for us at the
Soekarno- Hatta
airport. i supposed to on the morning flight at 07:25 but thank God i still get the next flight to Jakarta at 09:45 ...
arrived at Soeta at 11:00 AM i meet Amel and her sista, and together 4 of us took a taxi to Senayan, At Senayan, we go to the place to get our tickets, and there you are the merchandise for the VIP ticket , it was a towel. ..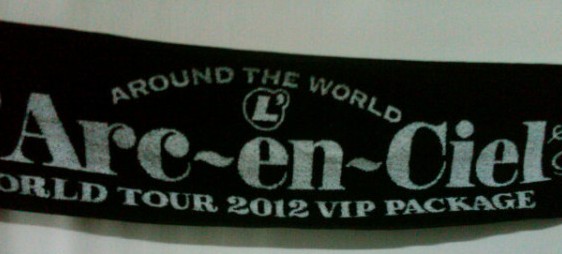 i didn't buy any goodies because i ran out of money, ... so that VIP merchandise is my one and only goodies from Jakarta live. About 10 minutes after we all get our tickets, my office mate texted me if she really need some cash for today a.s.a.p. and OMG where do i have to find ATM here in
Senayan
? finally we decided to go to
Senayan Plaza
to spent the time and find ATM to transfer cash ..
i can't find the my bank ATM so i use another's bank ATM and as always if i use another bank's ATM, it gave me a limit for how much i can send money. That day i have to send her 40 millions IDR and because i can't find my bank's ATM i only sent her 10 millions IDR. damn where should i find another ATM, i mean here i am in Jakarta and for me who live in a very small city, i feel lost in this big city.
i text my friend told her if i only able to send her 10 and i promised her i will send her the rest 30 millions tonight at airport because i remember i saw my bank's ATM there. but today i found out if that only 10 millions just pissed her off. ... eh, what the i told her the reason, and she still mad like that? ...
in the end i have to call my other friend to gave her another 10 millions. OMG she didn't believe me? why, i mean i am not gonna lie for something important like this, if i said i will send you the money tonight, then i will send it and i did send it that night at 03:00 AM at airport ...
oke enough about the money and not believe things, i am not gonna talk about that again because i have something more than that. Guess who i meet at Senayan Plaza that day? ...
yasu : who ...?
noi : not you ...
yasu : then who ..
noi : it was Mr. Friday ...
yasu : no, that's not true ...
noi : but that's true ya_san .... kyaaaa ... *so happy*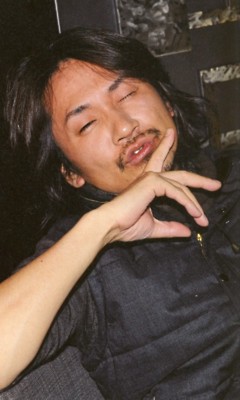 yes, i saw him that day at
Senayan Plaza
, oke i heard about a rumor if somebody meet
ken_chan the Lion
at
Senayan City
, and if i am not mistake Senayan City is in front of Senayan Plaza. so instead of get a chance to meet
ken_chan the Lion
, i went to Senayan Plaza and meet him (
read : Mr. friday, not yasu
). ...
i was standing get line in front of the ATM machine and he was standing next to me. I knew it was him, i can't be wrong. It was him,
i know that 1 cm hair, that forehead, and that face
... OMG of course i remember everything about him, i mean you will remember everything about someone that you love right? ...
finally that day i can be at the same place with him (
read : Mr. Friday, not yasu
) and breath the same air with him the Jakarta air that day. I remember when i was graduate from college i really want to go and get a job in Jakarta. Why? the reason is so simple if i can be at the same city with him, even i can't see him at least i can breath the same air with him, the Jakarta air ...
and that day May 2nd is the day when i see him and officially the 1st day i can breath the same air with him
(read : Mr. Friday, not yasu
) and i am soo happy with that. ...
that day he was on a blue shirt, with his Blackberry and he was alone that day, and Oh dear God thank you so much for not let him to see me, because soon i saw him i just turn my face tryin so hard not to see him with my heart beat so fast. God, i really want to see him but i know if i keep see him he is gonna see me, and if he see me , ...
yasu : if he see you, then what? ...
noi : omo omo omo ... i wish i can be invisible to him ..
yasu : eh ...
noi : because if he see me ...
he is gonna call me and start the brother and sisterhood talking with me. remember ne when i said how much i love him, he said he love me to but as a sister, .... and damn i hate that, i hate the fact that he always see me as the little girl next door, who always go to his family mosque to pray. I hate it ...
hey Mr. Firday, i don't want you as my brother don't you know that? i am not a little girl anymore so please stop act like you are my brother. I don't have a brother. a sister and brother, you and me ? that's crap. so come on, forget about it.
OMG

OMG
ya_san, help me please ....!!!!!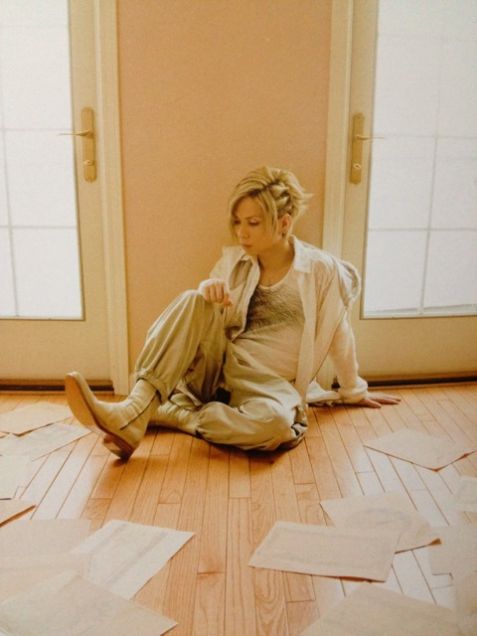 yasu : hey noi_chan, be focus ok ...
noi : ya_san, that's him ....
yasu : hello fangirl i am here waiting for a live report, not your love report ...
noi : ah ya i'll do that tomorrow at office ...
yasu : and tomorrow you are gonna say ya_san i am sorry, i fail again ..
noi : of course not ...
~to be continued~