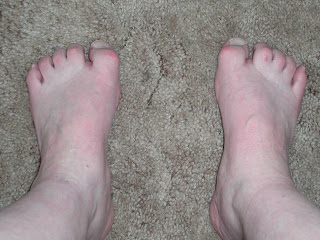 Overview
Hammertoes
(hammertoe) is a deformity of the second, third, or fourth toes. In this condition, the toe is bent at the middle joint, into an upward position, causing it to resemble a hammer (sometimes decribed as ?curled toes?). Left untreated, hammer toes can become inflexible and require surgery. Toes which take on a curled appearance are hammer toes. Mallet toe is a similar condition, but affects the upper joint of a toe.
Causes
A common cause of hammertoe and mallet toe is wearing improper footwear - shoes that are too tight in the toe box, or high-heel shoes. Wearing shoes of either type can push your toes forward, crowding one or more of them into a space that's not large enough to allow your toes to lie flat. Hammertoe and mallet toe deformities can also be inherited and may occur despite wearing appropriate footwear. The result is a toe that bends upward in the middle and then curls down in a hammer-like or claw-like shape. Your shoes can rub against the raised portion of the toe or toes, causing painful corns or calluses. The bottom of the affected toe can press down, creating the mallet-like appearance of mallet toe. At first, a hammertoe or mallet toe may maintain its flexibility and lie flat when you're not wearing crowded footwear. But eventually, the tendons of the toe may contract and tighten, causing your toe to become permanently stiff.
Symptoms
Hammertoe and mallet toe feature an abnormal bend in the joints of one or more of your toes. Moving the affected toe may be difficult or painful. Corns and calluses can result from the toe rubbing against the inside of your shoes. See your doctor if you have persistent foot pain that affects your ability to walk properly.
Diagnosis
The treatment options vary with the type and severity of each hammer toe, although identifying the deformity early in its development is important to avoid surgery. Your podiatric physician will examine and X-ray the affected area and recommend a treatment plan specific to your condition.
Non Surgical Treatment
Padding and Taping. Often this is the first step in a treatment plan. Padding the hammertoe prominence minimizes pain and allows the patient to continue a normal, active life. Taping may change the imbalance around the toes and thus relieve the stress and pain. Medication. Anti-inflammatory drugs and cortisone injections can be prescribed to ease acute pain and inflammation caused by the joint deformity. Orthotic Devices. Custom shoe inserts made by your podiatrist may be useful in controlling foot function. An orthotic device may reduce symptoms and prevent the worsening of the hammertoe deformity.
Surgical Treatment
If you have a severe case of hammer toe or if the affected toe is no longer flexible, you may need surgery to straighten your toe joint. Surgery requires only a local anesthetic (numbing medicine for the affected area) and is usually an outpatient procedure. This means you don?t have to stay in the hospital for the surgery.