テーマ:Reviews
Here are some pictures from the concert. It was great fun!




I really enjoyed the unique, not quite mellow, folk sound of nature airliner. You've got to see them live!

After nature airliner did some songs (including "12 Billion Arms"), Laurier did 7 of his earlier songs outlining his career--beginning from when he was a young teenager and punk rocker.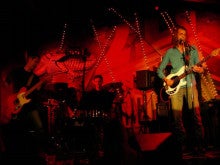 He plans now to write and record some dance music. He invited some people from the audience up on the stage to dance. As you can see, they were really moving!

Laurier has an awesome base/baritone voice, but he's also got a great screaming voice!

My wife said, "I like the way he screams."

Well... I guess I'd better practice my own screaming...


Until next time...