テーマ:Japan
Well, I already learned from 英語大好き@J-kunさん that the word "Friday" originated from a goddess in Greek mythology called Frejia (also spelled Freyja or Freya), which means "goodness." She was a goddess of love, fertility, and wealth. When she cried, her tears turned to gold. That is why Japan started using "kin" for Friday. 金曜日 (きんようび kinyoubi)

I received some more pictures from my teacher last night.




This is one of my teachers laughing at my first attempt at a horizontal line. I guess I went way too fast!




After a little instruction and guidance, I was able to slow down.

Here is another shot of the entire class after we chose our best one of the day: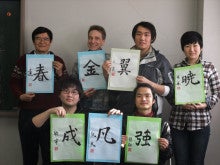 May we all have a life filled with love and wealth!


Until next time...