今天去SHOPPING
聖誕節到處都有漂亮的佈置
所以這段是間很喜歡到商場去
Today is my
window
shopping day
In this season there are pretty Christmas decorations everywhere in shopping malls, so I especially love to go to the mall this time of the year.
近來差不多每次外出都是著心愛的JESUS DIAMANTE
當舊設計的MARIE JACKET,
配上新設計的藍玫瑰ROCOCO LADY BARE OP
出奇的非常好看~
我不喜歡從頭到腳的都是全身2手衫
始終說到"姬"系....和全身2手貨好像有點矛盾

不過倒是很喜歡新舊混搭的感覺
總比起全身新品的配搭來得更有創意, 更有個性

Recently I wear my favorite Jesus Diamante style almost everyday.
I mix and match the old JD design Marie jacket with their newer design Rococo lady bare OP in blue rose print. This two item surprisingly looks good together

I don't like to wear old second hand clothing from head to toe, especially in hime style. Because that just seem a bit ironic to me, hime/princess and second hand old stuff......

However I really enjoy mix and match old items with new items. It adds personality to the coordinate, and looks much better than the coordinate of newest item of the season from head to toe, showing no signs or creativity whatsoever.
全身~~
鞋子是Roma-puri Ribbon Strap Pumps Rhinestone Ver.2
狐毛領是2年前在韓國入手的非常好用的一件

Full body~~
Shoes are
Roma-puri Ribbon Strap Pumps Rhinestone Ver.2
That duo rhinestone ribbons are just perfect for this festive season.
Fox fur collar is from Korea 2 years ago, a very versatile item

走累了~上去SHOPPING的那大廈上面的餐廳享用下午茶
湊巧那兒在這個12月和LANVIN CROSSOVER,
用上LANVIN可愛的插畫來裝飾下午茶
After a bit of shopping, I went up to the rooftop restaurant of the mall.
What a coincidence

this restaurant is doing a crossover with Lanvin for their afternoon tea set. Afternoon tea sets are decorated with cute Lanvin clip art.
到處都是ALBER ELBAZ可愛的插畫

Cute art by Alber Elbaz is everywhere


Tea set

Upper tier
Middle tier
中層只放鹹點~
Only the savories in the middle tier~
Bottom tier
食後感:
整體感覺這個TEA SET真是太HEAVY了!!!!
不太好甜點的我要面對2層甜點, 而且每一件甜點都很HEAVY
再說回鹹點...更是RICH AND HEAVY
每口都很油很CREAMY, 味道濃郁, 配茶還是不錯的
可惜不是我那杯茶.
說這下午茶DELICATE AND ELEGANT,
不如說它BOLD AND OVERWHELMING.
難道這是ALBER ELBAZ口味? (再看看身形....)
那麼我應該只會愛KARL LAGERFIELD口味 (如果有的話)



My thoughts:
This tea set is wayyyyy to heavy for my liking.
For someone who is not too crazy about desserts, there are 2 tiers loaded with heavy, creamy desserts I am to tackle. And the savories....they TOO are rich and heavy!!!! The flavors are intense which I find pairing with heavy black teas would be perfect (NOT the Darjeeling I was having for sure).

I totally describe this tea set as BOLD and OVERWHELMING, than delicate and elegant. Perhaps Alber Elbaz likes how rich and heavy it is, and established itself as Elbaz style. If that's the case then I would totally go for Karl Lagerfield style if it ever exists.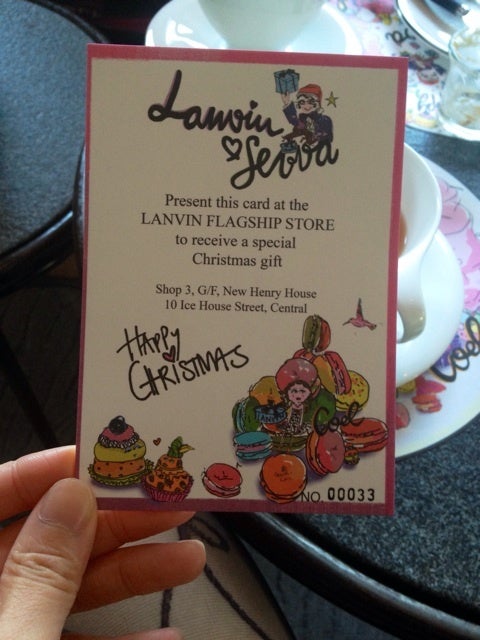 光顧TEA SET的客人都有份小禮物
要到LANVIN店去拿
我因為很掛住我的貓貓所以TEA之後便回家玩貓
下次才去拿吧~~~
Every customer will get a complimentary free gift from Lanvin. However one need to visit their flagship store for it. I didn't go today because I went home immediately for my cat right after, You know...there are times when you feel lonely being away from your cat, and I am sure the cat feels the same way too.
So~let's see what's that gift next time~~~
是日買物~DIOR CRUISE COLLECTION的限定珠片DIORISSIMO.
(圖在FACEBOOK)
粉紅色的和姬系是絕配

Purchase du jour~
Dior Cruise Collection 2014 limited edition Diorissimo mini in pink sequins
(picture posted in facebook)
It must look terrific with hime style

謝謝收看!
Thank you for watching!
*:..。o○☆゚・:,。*:..。o○☆