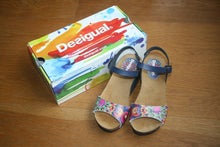 Last week was a busy week.
I've been searching for a new job
went to a job interview
and went shopping with my mother.

I'm anxious about getting a new job, but also excited

I already had a good bye meal with my co-workers. I'm not sad that I'm leaving them, I think a more creative workplace will be more suitable for me.

I bought new shoes in the summer sales

a pair of Desigual heels and a pair of Tamaris flats

I usually don't like Desigual, but these shoes are really nice
my brother told me that I suddenly turned into an old lady who likes Desigual
(lots of housewifes loooove Desigual
)
I'm very happy about the Tamaris shoes too
this brand is quite fashionable nowadays
and I think these shoes are timeless
I could probably wear this model 10 years from now