We had a gathering for this month's Sasakko club (children program in Emmaus Sendai) in June 1st, and 12 children came for it.
June is the month when most of all the areas in Japan enters the rainy season called "tsuyu(梅雨 for kanji), so we thought it would be a good idea to play outside before the gloomy grey clouds hovers above the city of Sendai. This time, we had recreational activities using balls, and after that, we had an ice cream party in which each child made his or her own unique sundae. The weather was good, the staffs were good lol, and the children played so energetically, exhausting the staffs...moreover, it was so worth being at the place where the air was filled with children's laughter.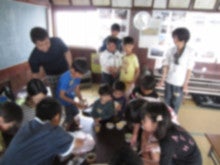 Unfortunately, we are not going to have a gathering in July.
BUT! We will do our best for this coming summer vacation.
Dates: Mon., Wed., Fri. on the 2nd through 4th week of August, from 10am to 3pm.
Place: Sasayashiki community hall
Program:
10am~12noon: study time
12noon~1pm: lunch
1pm~3pm: recreational time
We would appreciate your prayer for this summer program that God blesses those children and college-student volunteers.
Kenichi Tanaka, a Sendai staff