テーマ:音楽・クラシック・オペラ・民謡・歌謡曲
Love@Magic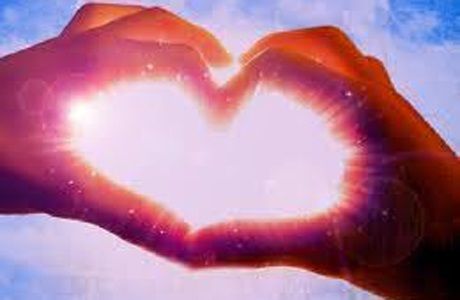 (luv001.jpg)
(luv002.jpg)
(foolw.gif)
What a gorgeous autumn day it is!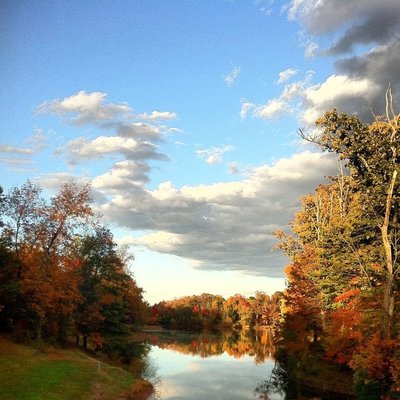 (fall211.jpg)
From: denman@infoseek.jp
To: diane705@yahoo.ca
cc: barclay1720@aol.com
Date: Thur., September 4, 2014 7:04 PM
Pacific Daylight Saving Time
Hi Diane,
What a gorgeous autumn day it is!
Have you basked in the sun lately while walking or jogging in Stanley Park?
...taking a stroll along one of the trails?
I'm writing an article like hell in the central library as usual.
What a pity!
By the way, thank you for your opinion on the "Tyrannosauer."
Yes, yes, yes...
The good-for-nothing guy was going to go over and kill the husband (likely scenario, of course) but you didn't suspect her.
Me, neither.
In the real life, however, she wouldn't do the killing, I suppose.
She isn't such a woman, that is, the heroine is a good-natured woman just like you, Diane.
You wouldn't kill any husband, would you?---even if he is a good-for-nothing violent man.
The movie is a fictional story, I believe.
Her killing is a big surprise, but that makes me feel betrayed by the director.
Although some say that truth is stranger than fiction, the movie should be realistic.
In any case, I've just finished my article.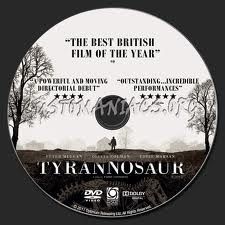 (tyra102.jpg)
■
"Tyrannosauer"
In the article, I picked up one particular movie among 594 films I've watched so far.
It is called "The Scent of Green Papaya," which I viewed a dozen years ago at the Vancouver Film Festival.
You might have watched it, too.
That is my hunch.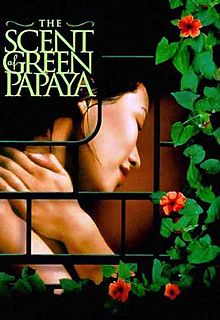 (papaya01.jpg)
"The Scent of Green Papaya" is a 1993 Vietnamese-language film produced in France by Lazennec Production, directed by Vietnamese-French director Tran Anh Hung.
The film won the Caméra d'Or prize at the 1993 Cannes Film Festival, and was nominated for the 1993 Academy Award for Best Foreign Language Film.
Although set in Vietnam, the film was shot entirely on a soundstage in Boulogne, France.
The musical score, both original material and well-known classical music pieces, creates the synaesthetic illusion of scent throughout the film.
In some ways, the music serves a metaphor for scent, with rapid transitions and modulations signaling abrupt emotional changes, just as occurs when a scent, invisible to the eye, eventually penetrates a person's consciousness and a message is transmitted to the brain.
This is a poetic rendering of Mui's love story.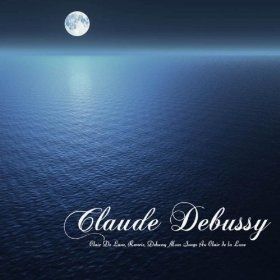 (debussy9.jpg)
I love Debussy's "Clair de lune" or "moonlight" which is the film's background music in the trailer.
And I enjoyed the movie to the hilt even though this was the second time to watch it.
I'm pretty sure you love it, too.
It's worthwhile viewing the film twice even if you might have watched it before.
...hope you'll enjoy it as well as my article.
Your smiling Bohemian, Kato
with a lot of love as always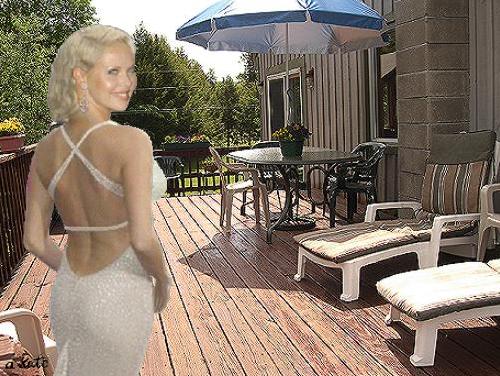 (dianesun.jpg)
Subj:I enjoyed the delightful movie!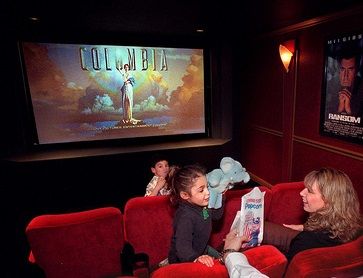 (viewfilm.jpg)
From: diane@vancouver.ca
To: barclay1720@aol.com
Date: Fri., September 5, 2014 4:43 PM
Pacific Daylight Saving Time
Hi Kato,
Nice to hear from you and thanks so much for the review on the film.
I'll look at it on Monday when I return from my weekend reveries.
I do recall seeing "The Scent of Green Papaya" years ago, but can't remember it clearly at all.
Maybe I'll reserve it one of these days, and thanks for the recommendation.
I just returned from a matinee at International Village of Woody Allen's latest "Magic in the Moonlight."
(magic01.jpg)
I must say it was delightful.
The cinematography is superb, so is the witty dialogue (Colin Firth shines in this one).
And the romance, the magical music of the late 1920's, all came together to provide a most pleasurable romantic comedy, with a bit of substance underlying the whole affair.
Quite a surprise ending as well.
It didn't hurt that it took place in the lovely Cote d'Azur, where my boyfriend and I just returned from visiting my brother in June.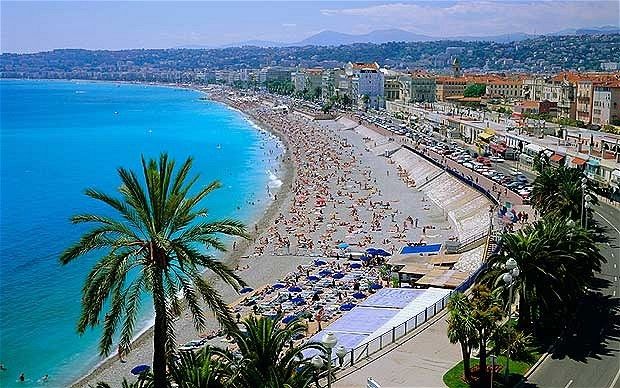 (nice002.jpg)
(nice001.jpg)
We really enjoyed this movie ... when we arrived at the theatre we were the only two there.
How can they keep these theatres profitable? Egads.
Another couple came later and sat behind us, but it was just the four of us in this huge theater.
Unbelievable!
It is Friday afternoon, nice day---no rain to keep folks home.
It's just so unbelievable!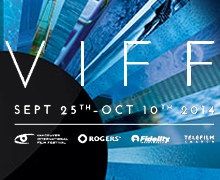 (viff2014.jpg)
... guess you're looking forward to the upcoming VIFF (me, too!).
I've already picked out 10 must-sees and the guide isn't even out yet.
... looks like it's going to be a fantastic year.
... hope to see you at the some of the films, kiddo.
Have a good weekend, Kato
We've got tickets to "The Tempest" at Bard-on-the-Beach tomorrow afternoon with our breakfast group.
Reviews have been positive and the weather is expected to be sunny and warm.
So we're all excited.
(dianelin3.jpg)
Love, Diane ~

(kato3.gif)

So, Diane, you enjoyed the movie to the hilt, eh?




(diane02.gif)

Yes, I did.  But for some reason, there were only four of us in the huge theater.

You know why?... 'cause I told the manager to treat the first four patrons as VIP.

You gotta be kidding.

Well ... to tell you the truth, Vancouverites decided to bask in the last summer sunshine instead of sitting in the dark.

But the film was really delightful, you know... the romance, the magical music of the late 1920's, and things like that, all came together to provide a most pleasurable romantic comedy.  Kato, why didn't you come to see it?

Recently Woody Allen's films have been running out of visionary insights.

What do you mean by that, Kato?

Well... some say that the screenplay seems too rushed.  You know what, Diane?  There is an old saying that, if a screenplay is bad, even a talented director cannot turn it into a good movie.

So, you think the film is a flop, don't you?

No, it isn't, but I'd say, it isn't my cup of tea.

Tell me, Kato... What is your cup of tea, then?

I like Woody Allen's "Sleeper."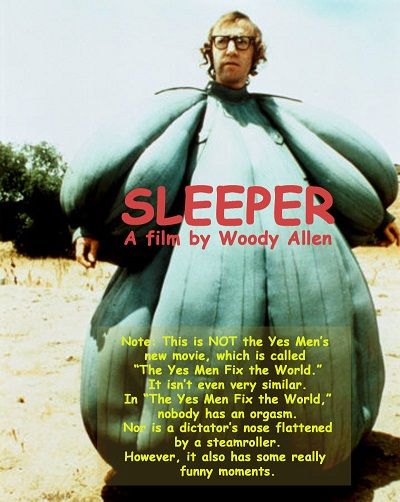 (sleeper1.jpg)






I'd say, this movie is much better than "Magic in the Moonlight."





Kato, did you watch the above film.

Of course, I did.  I borrowed the DVD from Vancouver Public Library, and then I jotted down my comment.



(lib40918a.png)

■"Actual Catalogue Page"





I see... So you viewed it on May 23, but if you liked it so much, how come you put only two stars out of five?




Good question!  As I wrote in the comment, I really enjoyed the scenes of Woody Allen's robot more than anything else.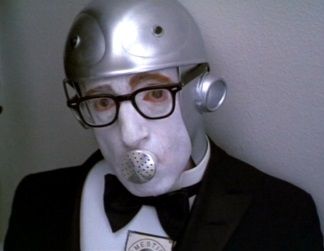 (sleeper2.jpg)




Those scenes are quite hilarious.  I really laughed to death, and love the goofy-looking Woody Allen.





So you enjoyed Allen's robot scenes and nothing else?

Actually, the acting of the actors seemed amateuristic and mediocre.

But you still think "Sleeper" is much better than "Magic in the Moonlight," huh?

To tell you the truth, I haven't seen "Magic in the Moonlight" yet, but the storyline didn't ring my bell when I read the plot summary.

Kato, tell me about your favorite film you've watched lately.

Four days ago, I watched "Repulsion" directed by Roman Polanski.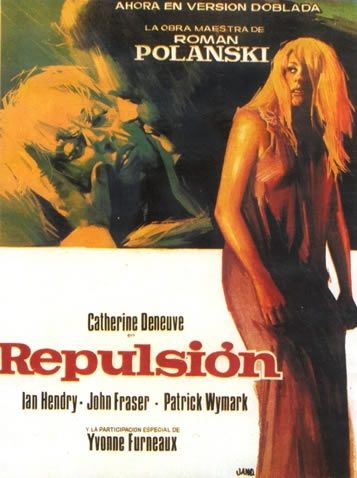 (repulsion1.jpg)







Did you like the above movie?




As usual, I jotted down my comment.  Read it yourself.




(lib40918b.png)

■"Actual Catalogue Page"





You didn't like it much, did you?




No, I didn't.

Then how come you borrowed the DVD?

Well..., Roman Polanski is a talended director, and one of my favorite movie makers.  So naturally I expected an exciting and fascinating movie.  Unfortunately, this isn't the case.

So, you were kinda disappointed, weren't you?

Yes, I was.  And I remembered that I was once moved by his movie.

What is it called.

"The Pianist"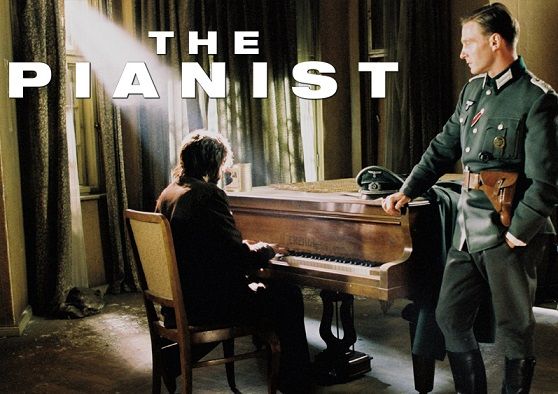 (pianist50.jpg)







What made you get so moved in the above film?




Please read my comment.




(lib40918c.png)

■"Actual Catalogue Page"





I see... So you watched the above movie two years ago, didn't you?




Yes, I did.  Actually, I watched it last night for the second time.

Is the above movie that good?

You bet on that, Diane.  I cannot get this film out of my mind.  This movie affected me deeply.  I think this film should be in the top 10 best films of all time.  It is really "love @ magic."

What do you mean by that?

Roman Polanski himself escaped the terrors of being a prisoner in the Holocaust, and he lost his mother and other family members.  He was probably the only director that could have done this movie as brilliantly as he did. He created this story and made it so effective.

So what is "love @ magic"?

The story goes like this:



In August 1944, the Polish resistance attack a German building across the street from Szpilman's hideout during the Warsaw Uprising.

A tank shells his apartment, forcing him to escape and hide elsewhere.

Over the course of the next months, the city is destroyed and abandoned, leaving Szpilman alone to search desperately for shelter and supplies among the ruins.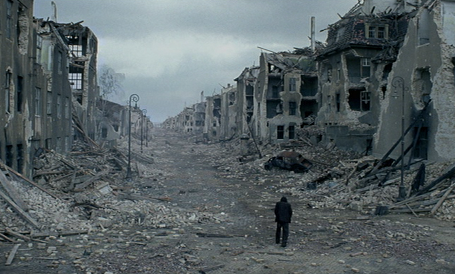 (pianist51.jpg)
He eventually makes his way to an abandoned home where he finds a can of pickles.
While trying to open it he is discovered by the Wehrmacht officer Wilm Hosenfeld, who learns that Szpilman is a pianist and asks him to play on a grand piano in the house.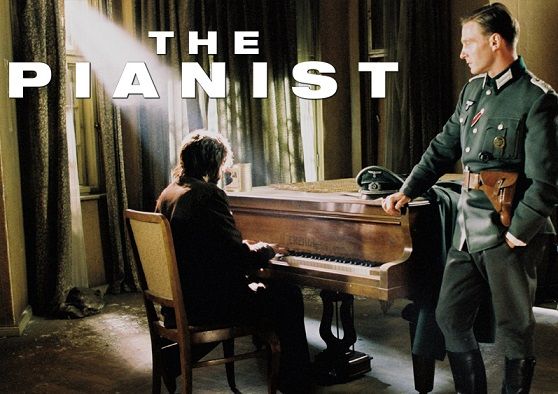 (pianist50.jpg)
The decrepit Szpilman plays Chopin's Ballade in G minor, which moves Hosenfeld enough to allow Szpilman to hide in the attic of the empty house where the German Captain regularly brings him food.


You see, Diane... Sometimes passion for music and his performance moves a listner, even if he is an enemy, so much so that the listner could feel a humane love toward the player.





Is that the love you call "love @ magic"?

Yes, it is.

(laugh16.gif)
【Himiko's Monologue】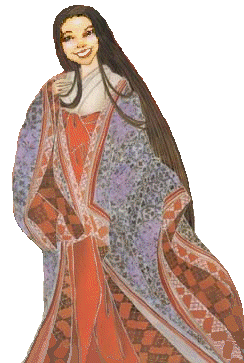 (himiko22.gif)
I was moved by "The Pianist," too.
It is a tragic movie, but if you're a history buff and music lover, you'll be fascinated by this film.
Well, a humane love is one thing, but a romantic love is another.
A decade ago, I watched "Love Story."
I was moved so much that I even forgot to eat my supper that night.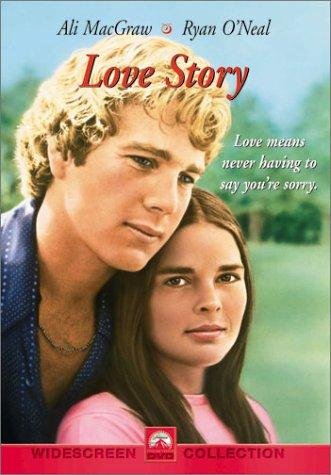 (luvstory.jpg)
The theme music is beautiful---I love it better than any other music piece.
However, music is one thing; food is yet another.
Romance doesn't fill my stomach.
I'm quite hungry now, and feel like eating sushi.
How about you?
Do you like sushi?
I'm sure you do.
Why don't you make California rolls?
I'll show you how to make those rolls.
California Rolls
An Easy Sushi Recipe
Now, you know how to do it.
Enjoy it to the hilt.
In any case, I hope Kato will write another interesting article soon.
So please come back to see me.
Have a nice day!
Bye bye ...
(hand.gif)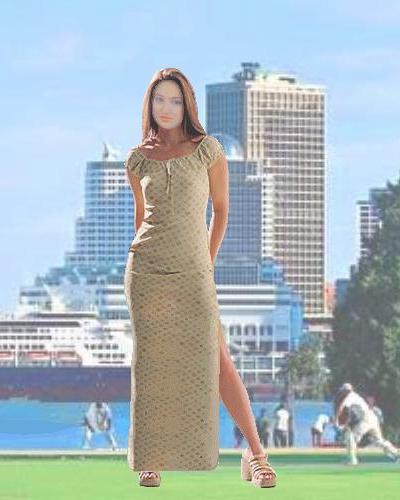 (renge400.jpg)
If you've got some time,
Please read one of the following artciles:
(juneswim.jpg)
■
"Go Bananas"
■
"Manwatching"
■
"Stanley Boardwalk"
■
"With Your Tiger"
■
"A Second World"
■
"Asexual Thought"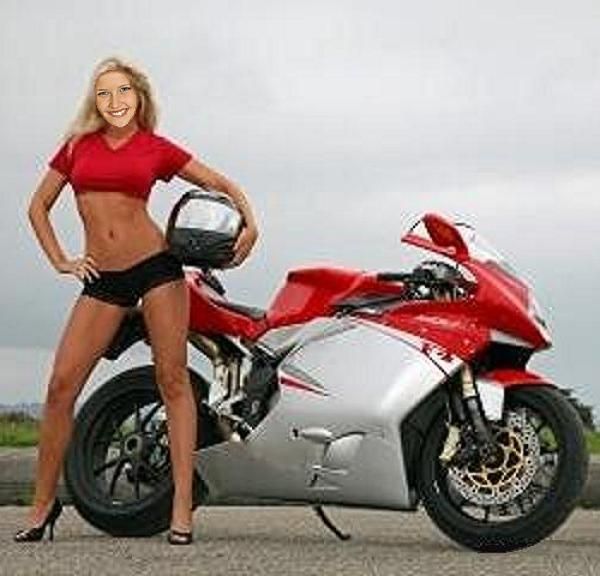 (biker302.jpg)
■
"Stanley 125 Years"
■
"Sushi @ the Globe"
■
"Peace@Syria & Pentagon"
■
"Sweet Memory"
■
"Unforgettable Movies"
■
"Typhoon 26"
■
"Great Luck"
■
"Diane@World"
■
"Diane@Spam"
■
"Sabina"
■
"Happy New Year"
■
"Merange & Sabina"
■
"Beauty in Spa"
■
"Love @ e-reading"
■
"Troublesome Slang"
■
"World Family"
■
"Mari's Bagels"
■
"Love & Loyalty"
■
"Another Cinderella"
■
"Amazing Two-legged Pooch"
■
"Delusive Romance"
■
"Royal Couple"
■
"Life with Music"
■
"Poutine@Canada"
■
"Glorious Summer"
■
"Biker Babe & Granny"
■
"Genetically Modified"
■
"Tyrannosaur"

(surfin2.gif)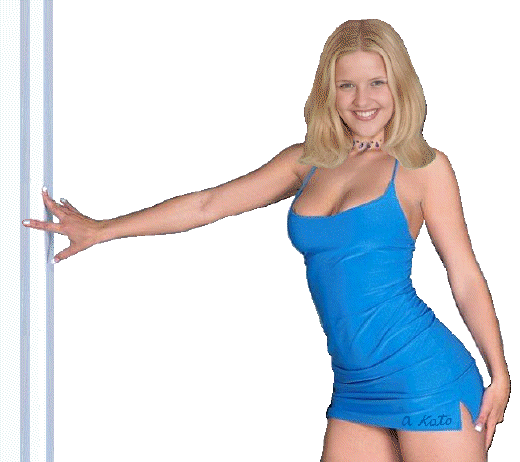 (bare02b.gif)
Hi, I'm June Adams.

The contemporary version, internationally known as "sushi", was created by Hanaya Yohei (1799–1858) at the end of the Edo period in Tokyo.
Sushi invented by Hanaya was an early form of fast food that was not fermented (therefore prepared quickly) and could be conveniently eaten with one's hands.

Originally, this sushi was known as Edomae zushi because it used freshly caught fish in the Edo-mae (Edo Bay or Tokyo Bay).
Though the fish used in modern sushi no longer usually comes from Tokyo Bay, it is still formally known as Edomae nigiri-zushi.

I like temaki sushi.
It is easy to make.
Here are the step-by-step instructions.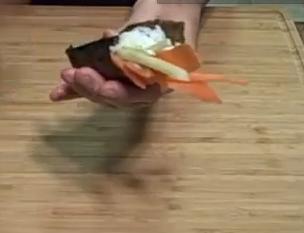 (sushi802.jpg)

Temaki Sushi



ところで、愛とロマンに満ちた

レンゲさんのお話をまとめて

『レンゲ物語』を作りました。

もし、レンゲさんの記事をまとめて読みたいならば、

次のリンクをクリックしてくださいね。

■『愛とロマンのレンゲ物語』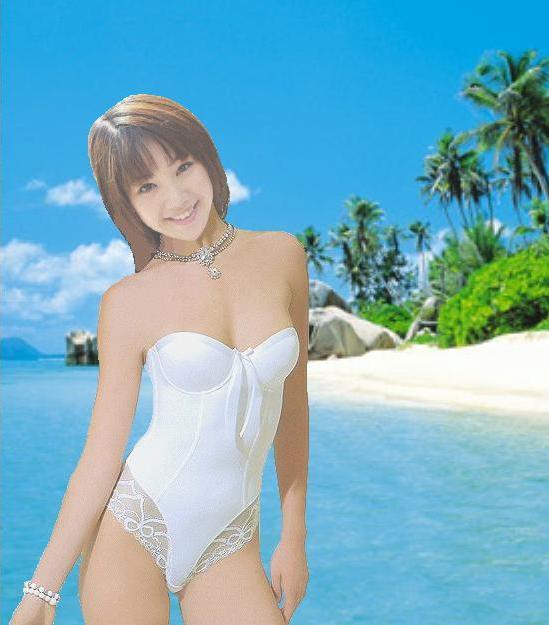 (renge730.jpg)

■『軽井沢タリアセン夫人 - 小百合物語』

とにかく、今日も一日楽しく愉快に

ネットサーフィンしましょうね。

じゃあね。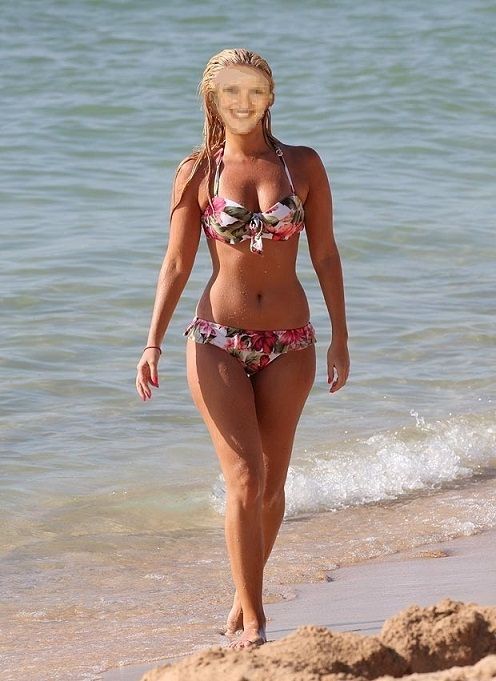 (bikini901b.jpg)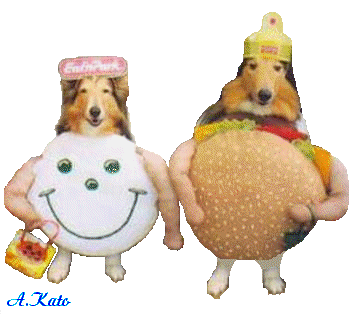 (dogs17.gif)

(girlxx.gif)