テーマ:ブログ
Finally, we could do our "Get together" again with Itske-san and Tony-san

I call them my American parents supported it very much!!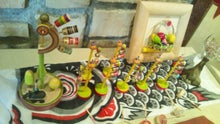 This time, Suzuki-san Japanese top Koma maker came to show

how to make them too. Also I asked to do Kumamoto prefecture Tokyo office

to do sightseeing presentation and try some their wonderful local dishes!!

QBG sweets shop in Ecute Shinagawa Tanaka-san and Sato-san also agreed with

my favor and came to serve beautiful sweets for our guests.

Long time, I could not do our event, so I really worried about how many people

can get together. But we could get so many at last.

Suzuki-san's top were so nice and beautiful!! and everything has very good balance,

so keep on spinning so long!!

Every children liked to see how Suzuki-san curve the wood. When I was small "I meant

compare to recent body", I used to visit our area's Komeshi shop they also make top

for our toy, every week!! Amazing to see their painting too!!

Kumamoto prefecture Tokyo office Matsumoto-san, Tsutsumi-san, and Morishita-san

supported us very nicery, and Yoshitake-san from Red sake called Akasake company

named Zuiyou also served very nice cocktail with Akasake, Hosokawa family

kept their Akasake culture all the time.

QBG sweets shop, chef Sato-san got great No.1 prize in France with his wonderful

sweets Paris Brest, so their sweets are always nice and makes me feel like in heaven!

Please feel free to visit Kumamoto prefecture antenna shop called ginza Kumamoto-kan

next of Sony building in Ginza. You can get very good shouchu at upstairs, and very nice

foods from Kumamoto!

We definitely succeed with our event very well!!
Thank you Tony-san and Itske-san, Kumamoto Prefecture Tokyo Office, Suzuki-san couple, Sakamoto-san family, and QBG members!!

See you then!!

Takahiko Saito